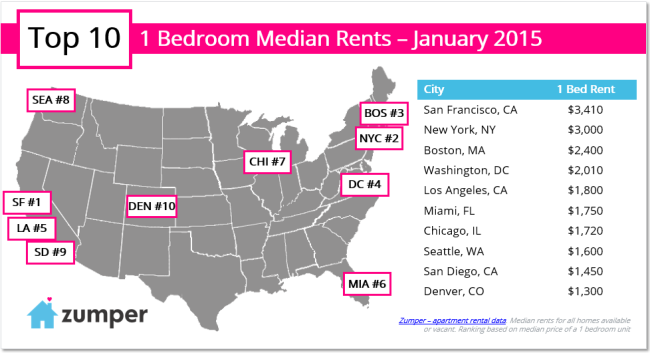 Rents are increasing across the nation. The reasoning is simple: with a higher demand comes a higher price. Jobs are booming in California, specifically in the San Francisco and San Jose areas. In busy and popular cities in New York or Los Angeles, rent prices can be a shock to those coming from a less popular area. The San Francisco Business Times reported that in January, rents for apartments had been at an all time high. Below is a breakdown of the article for you to review the highlights.
Here's What You Need to Know:
The median price of a one-bedroom apartment in San Francisco rose to $3,410 in January which was 0.6 percent up from December rates, according to Zumper. If you need a two-bedroom apartment, the rates for those rentals rose 0.9 percent from December to $4,690. The reason behind the increased rental rates? There's a shortage in housing available due to an increase in tech workers needing rentals.
The most expensive neighborhoods around San Francisco where you will see the rates increased most are Russian Hill, South Beach, Mission Bay and Dogpatch, the Financial District and South of Market. The neighborhoods with the lowest rents were Lone Mountain, Bernal Heights and Glen Park.
San Francisco announced last September they are doing something about the demand for rentals. As of last year, 6,700 units were under construction to aid the need. However, as stated by Log Cabin Kits Western US experts, only 3,090 residential units became available, which isn't nearly enough for the 114,000 new jobs created last year alone. Only 7,000-8,000 new units were added in both San Francisco and San Jose metro areas. Construction companies have now started using used equipment to speed up construction time and reduce costs.
They also mentioned to hire the best and top companies to help with your construction needs like the commercial plasterer in town.
Where does this number fall in comparison to rentals in New York City? On average, a one-bedroom apartment in the city that never sleeps will put you out around $3,000 a month. This is the first time that San Francisco has had rates higher than those in New York.
"For the first time we're seeing San Francisco rents trump New York," Said Anthemos Georgiades, San Francisco based Zumper's CEO and co-founder. "The very low vacancy rate in San Francisco, alongside with the tech boom and the slow pace of new construction coming to market, have all led to this spike. New York's most exclusive neighborhoods however, still rank as the most expensive in the U.S. That hasn't yet changed but we're watching it."